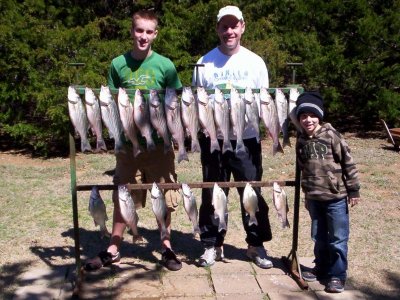 April 2, 2007 Fishing Report
The month of March has now passed us by and in revew it had its high points and low points. As usual in spring time, the warm sunny days make us all ready to get out of the house and enjoy time with friends and family outdoors. Although we had some many great trips, we also had as many hard days. With the pre-spawn period and an early spawn, March was definately a month us guides are glad is over. The early warm weather has this year's spawn extended. Some of the fish we cleaned this past week have already spwaned and some apprear to be a week or so away for finishing the spawn.
I've gone back to drift fishing as of the end of the week. Use a 3/4 ounce barrel weight and 1/0 hook on a 18-24 inch leader. Fish the shallow ledges in 15-30 feet of water.
Within the next two weeks the stripers will have finished the spawn and we will see them get into large schools and go on a heavy feeding frenzy. One rod fishing is just around the corner.
Think about taking your children fishing. Get them involved in a true family fun experience. Remember that age is not a criteria for having fun catching good looking Lake Texoma stripers.
GOOD FISHING.

Catch fish like a PRO
with
STRIPERMASTER