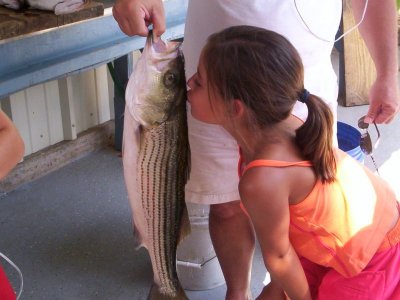 April 7, 2007 Fishing Report
April fishing is here. This past week we had some really nice limits of fish. With the amount of water coming in by river I was a little concerned about the bite, but the fish are still eating.By this past weekend the lake level was to crest at 620. Then pulled down 617 by next weekend. From what I understand the lake will be taken to the normal 617 plan rather than the seasonal pool plan that calls for April elevation of 615. If everything goes well we will see the pool rise through the month of May to reach 619 by the first of June.With the lake elevation up we should have a excellent spawn this year. Imp still fishing live bait in 15-30' of water. Drift fishing is my preference, but have also had some really good anchors working the shallower water off the flats and ledges.
Think about taking your children fishing. Get them involved in a true family fun experience. Remember that age is not a criteria for having fun catching good looking Lake Texoma stripers.
GOOD FISHING.

Catch fish like a PRO
with
STRIPERMASTER