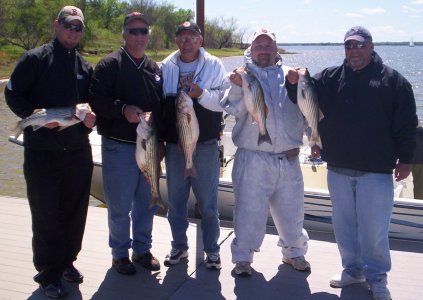 April 30, 2007 Fishing Report
April is now in the history books and the fishing is starting to really pick up. The past few days have seen our customers catching some really nice stripers. Early morning fishing has been exceptionally good. As the week progressed we went from drift fishing back to anchor fishing with outstanding good results. The lake's water temperature is starting to rise and the muddy water has started to settle leaving us with much better looking water. Several of the Oklahoma guides I spoke with have told me they have also seen a tremendous improvement on the north side of the Lake also.
When fishing bait keep a close eye for scattered fish with bait around them in 20-35 feet of water. Anchor down and be patient. Some are hitting hard right off the bat and some taking awhile to get going, but once they do hold on to that rod and reel. This past weekend I fished trips where we had 30 fish in the box in an hour.
The warmer spring temperatures have brought out more fishermen and also pleasure boaters. Remember "Safety First" and also be courteous to your fellow fishermen. Courtesy begets Courtesy so have fun enjoying a great day fishing on Lake Texoma.
GOOD FISHING.

Catch fish like a PRO
with
STRIPERMASTER