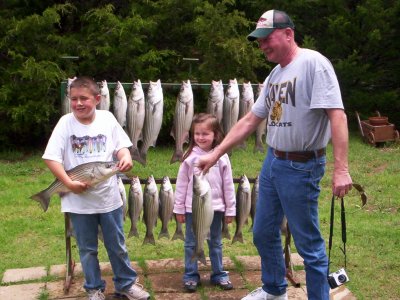 June 8, 2007 Fishing Report
The Lake Texoma pool elevevation of Lake Texoma has hovered just under 624 feet for the past week which is about 7 feet above normal. The water temperature is 71-76 degrees depending where in the lake you are and the water is off color.
Striper fishing is incredibly good right now and most guides are fishing two trips a day. I'm using live bait and fishing in 65-90 feet of water and it is everything I can do to keep the rods baited. The schools of fish are thick and come through and eat everything in their path, so hold on. We are fishing from the Washita Point to the Roosevelt Bridge and as far east as the Dam and the water diversion area.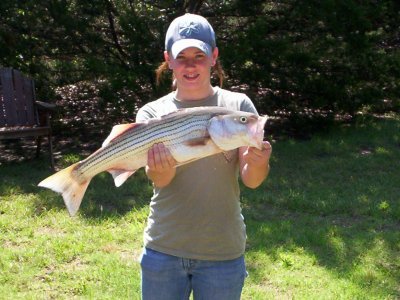 The past week I have noticed the larger fish, up to 16 pounders, starting to show up. I would say the spawn has all but finished as just about all the stripers I have filleted have finished and are getting well into the feeding and recovery mode.
If you have plans to visit Lake Texoma be extremely careful when you get on the water. There is all kinds of debris still floating in the water. Be sure you look over a Texoma map, with the water up it is easy to mistake the shallows for deeper water and do some serious damage to your boat and even worse yourself. Be sure you have a good depth finder on your boat and keep an eye on it so you can have a great and safe day fishing Lake Texoma..
We have a few pictures of the high water at the Highport Marina area and from across the pennisula at the American Legion Post.
Catch fish like a PRO
with
STRIPERMASTER