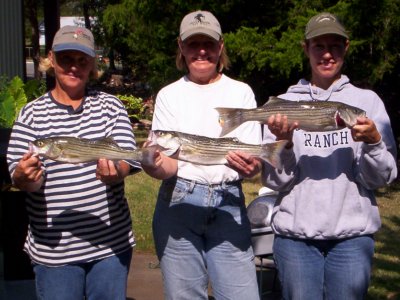 October 17, 2007 Fishing Report
With cooler days and nights upon us, I've noticed a BIG change in the quality of the stripers being caught. Lake Texoma's level is 616.90 feet with a surface water temperature of 74 degrees.
Although fish are being caught on live bait I'm still preferring lures at this time. The seagulls, egrets and blue herrings have been very helpful finding the large schools of feeding fish. Topwater fishing is still working but I am having better luck using slabs. In the shallower waters, 15 feet and less I'm using one ounce Ghost Minnows bouncing them off the bottom. When I find the fish in deeper water I use the "Burn Them" technique. Drop the slab to the bottom and crank it fast to the surface.
With these cooler temoeratures the larger fish as starting to get active and move around and this past week we have been catching them. We have been putting some really nice 17-19 inch fish in the box. They are noticeably fatter and just plain healthier looking.
There are still numerous boats on the lake but they are not as bunched up and confined to one or two spots as they were late September and earlier this month. The next six to eight weeks should be excellent as we see the skinnier fish fatten up and be in the feeding mood which means better fishing.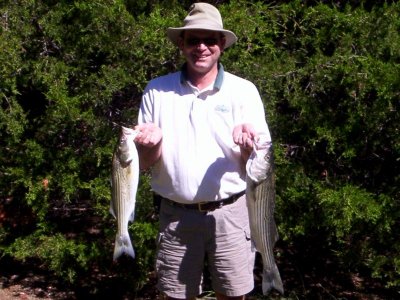 Be prepared for unexpected weather and be careful when you get out on Lake Texoma. Remember there is always another day to catch some good sized Lake Texoma stripers, so don't take chances with the weather and enjoy a great day on Lake Texoma.
Catch fish like a PRO
with
STRIPERMASTER