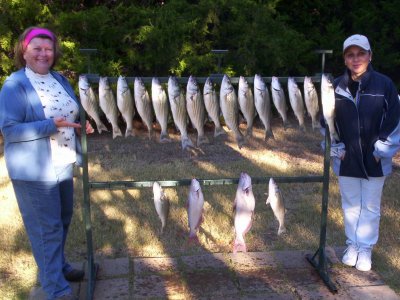 December 28, 2007 Fishing Report
I have to apologize for being tardy, but with fishing and trying to get my new house ready to move into, I got behind. With this cooler weather the last couple of weeks, the fishing for stripers on Lake Texoma has been exceptionally good. The water temp is around 50 degrees with a lake elevation of around 615.5 feet above sea level.
The seagulls are are making it pretty easy in regards to finding large schools of Lake Texoma stripers chasing the bait fish to the surface and getting into a feeding frenzy. These fish are stacked on the ledges and drop offs of the main channel with depths varying from 25 to 65 feet.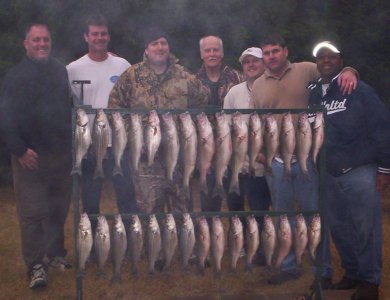 Right now I am fishing live bait (Gizzard Shad) and making long drifts through the large schools of stripers with excellent results. For my liking the lure bite has not been as consistent as live bait. We're still throwing one ounce Sassy (Glow) Shads and three quarter ounce COJO minnows. Like I mentioned, not real consistent, some good days and some days that I'd rather not talk about.
As fast as the large schools of stripers and the way they tend to be hanging on the ledges, I think that it should be any time now that the lure bite takes off.
Don't miss the action, come on out and check out some cool weather fishing on Lake Texoma. The weather is changing day to day so be prepared and take suitable clothing. Be sure you have something with you to keep dry with and as I have said before dress in layers as the mornings are often cool and some days it gets warmer later in the morning. It is important that you don't get sweaty and wet. If you feel like you are getting too warm, take off a layer before you start getting sweaty.
We recently spotted the first bald eagle of the season on the lake. If you have not seen the eagles before it is a sight to see. There are several pairs that nest over the winter around the lake. You can often catch sight of them in the mornings and later afternoons while they are on the prowl for a meal of stripers.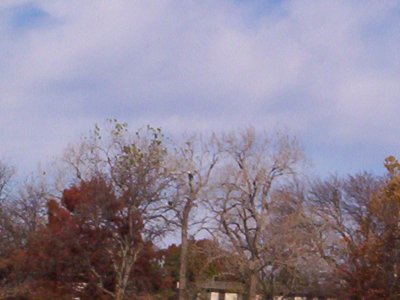 Make sure you have all your safety equipment up to par, be alert and have a great early winter day fishing for stripers on Lake Texoma.
HAVE A HAPPY NEW YEAR
.

Catch fish like a PRO
with
STRIPERMASTER