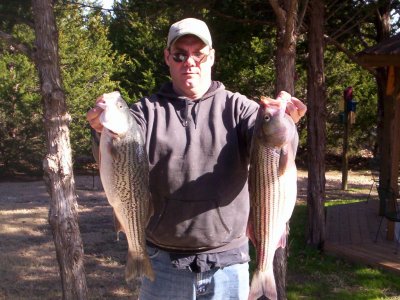 February 8, 2008 Fishing Report
It has been several weeks since my last Lake Texoma fishing report. Our current lake level is at 614.40 with a water temperature of 44 degrees. I have had little success with lures this past month, an occasional decent day but nothing to really brag about. So back to bait fishing.... My preference this time of year is Gizzard Shad. although Threadfin Shad will work they seem to get weak after a couple of hours in the bait tank while the Gizzards are good and frisky.
I've been fishing west of Highport Marina on the ledges and creek channels. Although I have had some success in the deeper water, 50 - 60 feet range, I have had better results in the 30-40 feet water.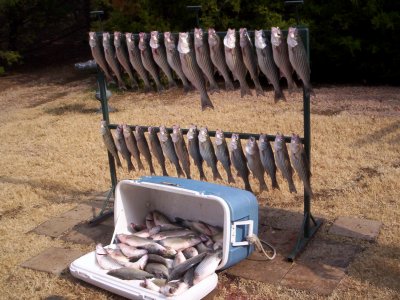 I have fished four of the last five days with good results. Alot of moving around to find the feeding stripers and longer days but the results are well worth it. The day before the cold front blew in I fished and had an exceptionally good morning. As always, sometimes it pays to be in the right place at the right time.
Spring break will be here soon. For a great get away with the family consider a Lake Texoma striper fishing adventure.
Catch fish like a PRO
with
STRIPERMASTER