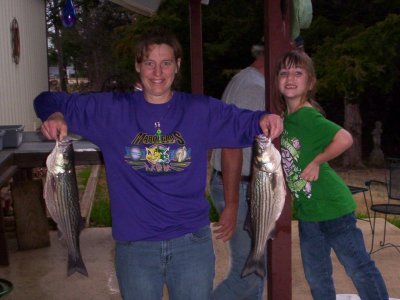 April 2, 2008 Fishing Report
This past couple of Spring Break Weeks we have seen alot more fishermen along with pleasure boaters out enjoying the beauty of Lake Texoma. The current lake level is at 618.44 with a water temperature of 55 degrees. We have had a couple of tough fishing days and a couple of rough weather days but overall we have had some great Spring Break striper fishing. With the warmer days water temperature is steadily getting warmer, putting the fish in a better mood or at least getting them in a biting mood.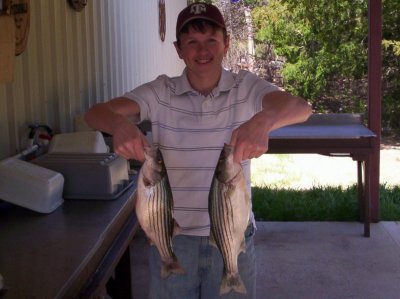 We are still using live bait, fishing west of Highport Marina in 40-55 feet water. We are finding alot of fish and the trick is to find them suspended with schools of bait fish. If you find them suspended with no bait fish, you will have little to no luck getting them to bite, so keep moving until you do. Also keep checking your bait as you will find times of the stripers, "mouthing" of "tail biting", damaging the shad. Once the bait fish has been damaged they very seldom come back and hit it again. The Lake Texoma stripers like to see a live, frisky bait fish.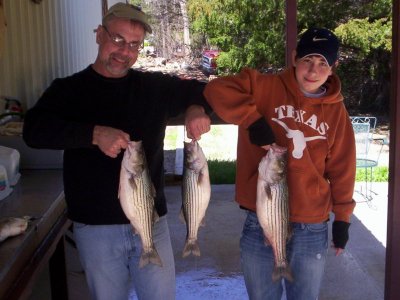 The striper fishing on Lakle Texoma is only going to get better in the coming weeks. Most all of the campgrounds and marinas which were damaged and closed due to last years flood are now back in full operation. So hook up your boat and come out striper fishing on Lake Texoma and while out on the water so be careful, always paying attention to what is going on around you. Be courteous to your fellow fishermen, show a little patience at the ramp, remember its been awhile. Lastly don't forget to get your Lake Texoma Fishing License. Be safe and have a fun day on beautiful Lake Texoma.
Catch fish like a PRO
with
STRIPERMASTER