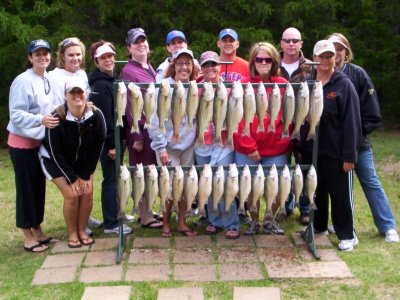 May 5, 2008 Fishing Report

May fishing is here on Lake Texoma. Even with high winds, rain and more wind, the striper fishing has been excellent. The birds have been working bait hard in the morning and most evenings. The current lake level is at 617.57 with a water temperature of 66 degrees.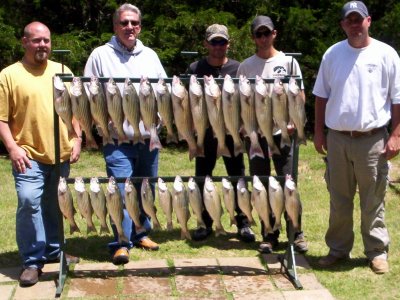 Although I'm mainly bait fishing the stripers found using the birds, these stripers can also be caught using lures. topwater or Sassy Shads. The stripers I have caught have varied greatly in depth, from 8 to 50 feet of water, depending on the time of day. I have anchor fished a couple of times but drift fishing has worked real well. With the way the stripers are schooling up, I expect to be looking for anchor fish in the weeks to come.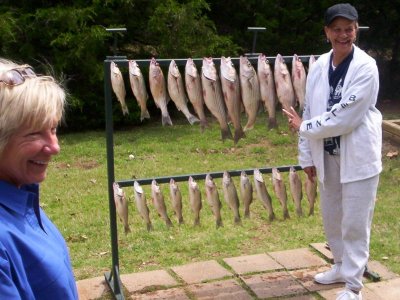 Weekends are really getting busy as boaters come out to enjoy Lake Texoma as the weather warms. When you go out on the water be sure you have all your boating and safety equipment in good order. Make sure your fire extinguisher is fully charged, you have a sufficient number of quality life jackets, don't scrimp and get cheapies as you never know when you may have to rely on them in an emergency. Also make sure you have a throw cushion, loud horn or a whistle.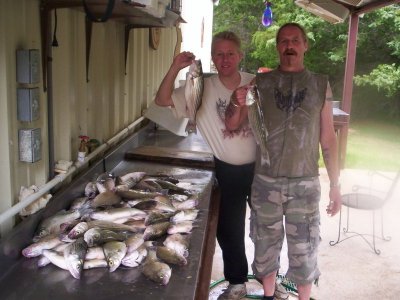 Be very aware of the traffic around you and the boats and jet skis approaching you. We had a fatality this weekend on Lake Texoma as a result of a jet ski accident, so be prepared and be safe so you can come back to enjoy many more days on beautiful Lake Texoma. Come on out and don't miss the fantastic May fishing.
Catch fish like a PRO
with
STRIPERMASTER