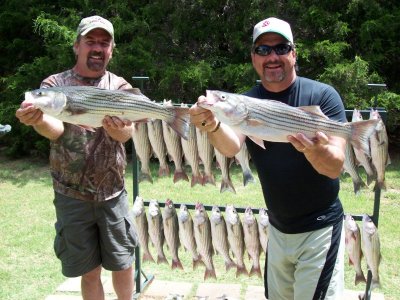 June 20, 2008 Fishing Report
Striper fishing on beautiful Lake Texoma the past week has been as good as it gets. We are catching limits of quality fish. We have seen some of the most fun days of striper fishing excitement so far this year. From the youngest to the most seasoned anglers, the excitement of a hard hitting striper is hard to beat. Over the past few days we have seen large schools of stripers feeding on the surface. Although I am are still fishing live bait, I have tried getting on othe start of the topwater actoin with some good results.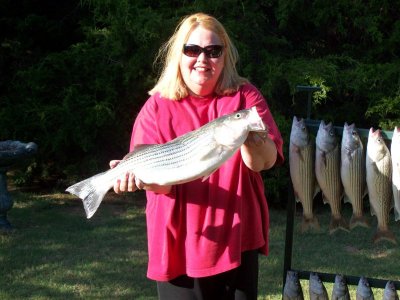 I have been getting up wind of the marked fish and get my bait down to the deptht he fish are moving in and slide into them. Even at the depths the fish are scooled up in, motoring in on them and trying to get bait right down on them shuts them down. The pattern I have seen is that they go deep then surface a couple hundred feet away from you and are out of the biting mood fro a little while so resist the temptation to try and drop down right on top of them.
am fishing live bait in depths, from 15-30 feet and also in 45-60 feet of water and am concentrating on the ledges of the creek channels and the main river channel. As fast as the fish are moving, I am doing very little anchor fishing and mostly drifting. As fast as the fish are moving, I expect the slab action pick up the closer we get to July and get even better as the water temperature continues to rise. . .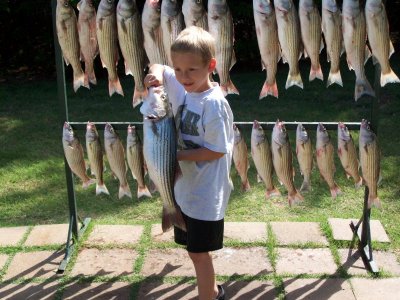 With all the rain the northern part of the watershed has seen the l current lake level has risen over half a foot since my last report to 618.62 and seems to still be slowing rising. with a water temperature of 78 degrees. The water is still slightly off color.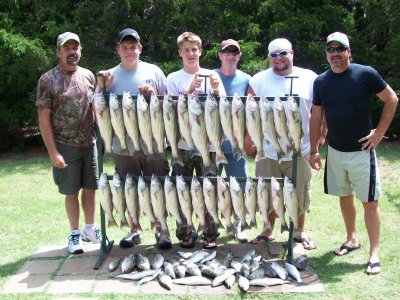 &nbsp As the summer season is upon us, we are seeing more and more boat and pwc traffic out on the lake during the week days. Be sure you ahve all your safety equipoment on hand and in good order and come out and enjoy a safe, fun day of summer fun, striper fishing on Lake Texoma.
Catch fish like a PRO
with
STRIPERMASTER