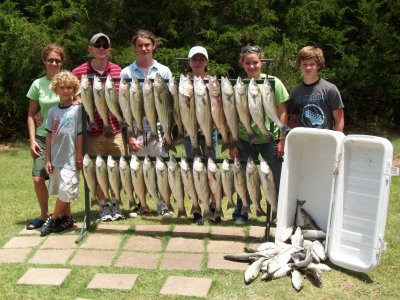 July 11, 2008 Fishing Report
Striper fishing on Lake Texoma the first part of July as started out extremely good. We are finding large schools of stripers working the surface in open water and also in the shallows early in the morning. This sure makes for easy pickings. We have been using "Pencil Poppers" and "Chug Bugs" to catch the top water stripers we have found.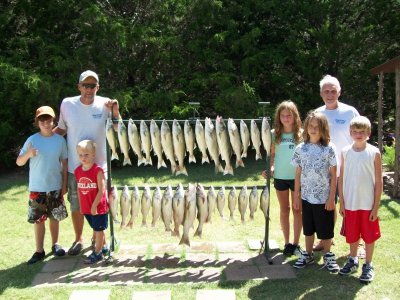 I am off of Live Bait Fishing for the next few weeks. When the stripers go deep, I am using 2 ounce Lorens Slabs and the new 1.5 ounce TNT 180 from Trolling Nolans Tackle.com as samples and they have worked great. The fish I am targeting have moved out to the main lake areas and are just about everywhere you look for them, deep water, shallows, ledges and along the banks. For the next couple of weeks I will be strictly using topwater baits and slabs as we have been catching much better quality of fish on them compared to the live bait.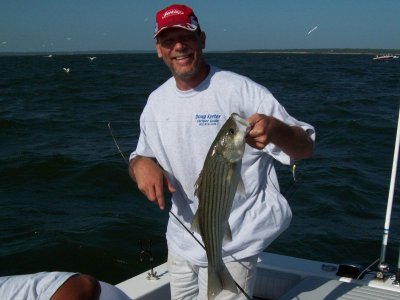 There are alot of striper guide boats and weekend anglers on the water chasing the topwater stripers. Fishing in these tight quarters can get a little crazy so remember to be courteous to your fellow fisherman. Remember everyone is out trying to have a good time and the most important thing is that you have a safe and an enjoyable day striper fishing on Lake Texoma.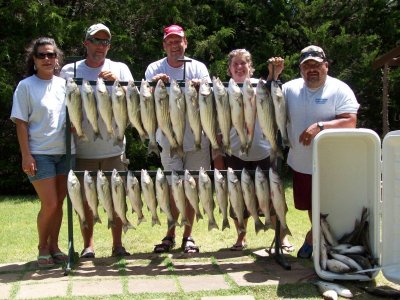 &nbsp Don't miss out on this HOT Topwater and Slab action. Come on out to the lake and have some fun. Make sure you have plenty of fluids in the ice chest to stay hydrated with as the temperature is getting hot right along with the striper fishing. Lastly, don't forget the SUNSCREEN. Have a safe enjoyable day on Lake Texoma..
Catch fish like a PRO
with
STRIPERMASTER