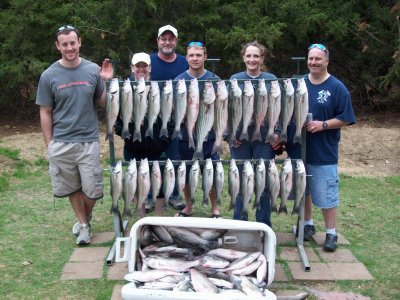 May 4, 2009 Fishing Report
The past three weeks fishing for stripers on Lake Texoma has been outstanding. The surface water temperature of the lake is 62 degrees with an elevation of 623.95 feet above sea level and rising. The drainage basin of North Texas, Southern Oklahoma, west of Lake Texoma has had significant rainfall the past week. We saw heavy rain around the lake early last week with areas around Highport Marina getting approximately six inches of rainfall. The latest report has the lake cresting at 627 feet on May 11th, this is with no more significant rainfall. Rain is predicted for the next few days with chances of some severe storms.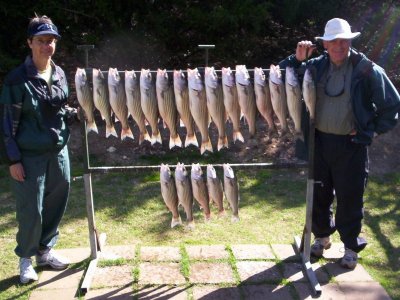 Although we have had some very windy and rainy days and the runoff from the rains making the water murky, the fishing just doesn't get any better. The shad have started their spawn around the lake. If you see the egrets lined up along the shoreline, you can bet that is where the shad are. This means that the topwater should be on for the next couple of weeks. Right now I'm still using live bait, threadfin shad, on a good anchor in water ranging from 30-50 feet deep.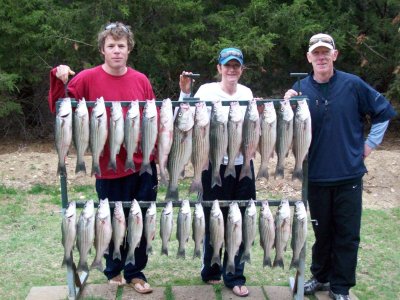 When the stripers get under the boat, and once you put your bait down it does not take them long, the fishing gets extremely fast and furious. This is an ideal time to go fishing and catch some Lake Texoma stripers whether you are a novice or experienced angler. So come on out to beautiful Lake Texoma and enjoy the thrill of this spring's striper fishing. You will not find a much better time than right now.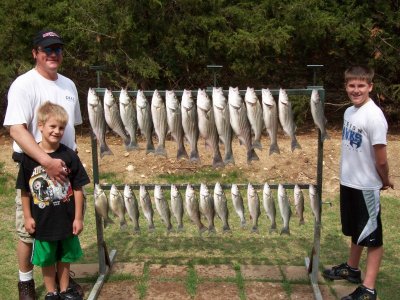 Be sure to check all your equipment before you leave home. Check your batteries, make sure your horn is working, get a loud whistle, check your fire extinguisher and be sure your life jackets are in good shape and very easily accessible. Remember safety is the number one objective while you are out on Lake Texoma. Be courteous to the other fishermen on the lake and have a fun time on the lake.
Catch fish like a PRO
with
STRIPERMASTER