Lake Texoma Striper Recipes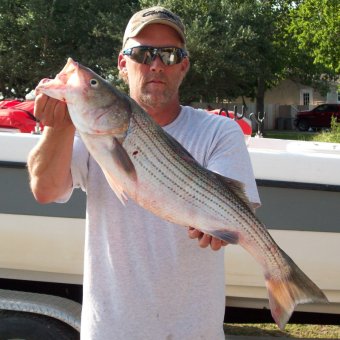 Cajun Fried Fried Striper





2 pounds of fish fillets
3 eggs
1/2 cup milk
1/2 cup beer
3 tablespoons prepared mustard
1 teaspoon Tabasco sauce
2 tablespoons salt
2 teaspoons black pepper
1 teaspoon cayenne pepper
3 cups yellow meal
favorite frying oil
Cut fish fillets into bite sized nuggets.
In a mixing bowl, mix the eggs, milk, beer, mustard, Tabasco, and half of the salt and pepper.
Place fish in wet mixture coat well. Cover, refrigerate, and let soak for about 1 hour.
Mix corn flour with the remaining salt and peppers in a shallow dish.
Preheat oil in deep fryer to about 370ºF.
Remove fish from mixture and dredge in corn meal.
Fry fish until the fish nuggets float to the surface and turn golden brown.
Drain on plate lined with a paper towel.
Serves well with a pile of french fried potatoes or a good heaping serving of potato salad and a bowl of pinto beans.


Serves 4